0
Your home foundation is one of the most important aspects of your home so you must not only take care of it but also learn to recognize the signs of foundation problems.  Home Foundation problems are caused by soil moisture imbalance and shifting soil around and underneath the foundation due to improper drainage, leaks, and tree roots.  Make sure trees are not near the foundation as they can not only put pressure on the foundation but they also dehydrate the soil.  Downspouts, concrete pads/sidewalks, and lawns should direct water away from the foundation. In drought conditions you may want to place soaker houses around the foundation to prevent the soil from pulling away.  Finally, do not assume that because your home is new that you will not have problems.  Severe drought, rain, or other deep soil issues can affect a new home just as much as an older home (especially if the builder did not allow sufficient time for the lot to settle before building).  Tensioners in the slab can mitigate foundation movement to some extent and pier-and-beam foundations tend to not have problems (existing foundations are often repaired using piers).
It is also important to recognize the signs of foundation problems early and call a professional before the problem becomes worse (if movement is greater than 2″ and getting worse each year).  Symptoms include: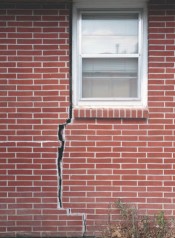 Doors and/or windows don't close
Stress cracks diagonally from corners of doors and windows or down walls (not on seams as this is usually poor joint taping)
Gaps around the frame of windows or doors (internal or external)
The brick joints outside the home no longer aligning or too large
Bricks lifting off the slab
Cracks in the slab
Trim separation
Cracks along the brick mortar
The most important thing to remember is DON'T PANIC and seek the advice of a professional foundation repair company if you notice problems.  Often problems can be corrected at a very low cost if caught early.  Modern methods of jacking and and stabilizing can adjust the home back to level and square.  Once performed the appearance of the home can be repaired.
This is for information purposes only and claim no responsibility for any damages or injury as a result of using this information.
December 26, 2012