New Construction
August 26, 2013

MYTH

: There is no better "deal" because you don't have an Agent

Builder's base prices are set with commissions in mind so any "deals" are those that you would get anyway. If the builder won't put in writing a 3% discount if you don't have an agent then get representation! The builder does not represent you.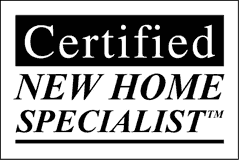 My experience, knowledge, and reputation represent strength and leverage on your behalf.  As a Certified New Homes Specialist (CNHS) and being Residential Construction Certified (RCC), I am is uniquely qualified to deal with builders, their contracts, and any issues that may come up.  While any agent can represent you with a builder it is in your best interest to have an agent specially trained to deal with builders.
Need to Sell Your Existing Home?
If I sell your home and you use us as your new construction representative, we will rebate a portion of our commission back to you on a purchase of a new home.  Effectively, your home is listed at a much reduced cost.
Stuck in a Lease?
Ask About my Lease Buyout!
Use a

Certified New Home Specialist
As a CNHS, I understand new construction materials, techniques, and options.  I understand how the builder operates and what concerns and motivations they have and thus can ensure you get the best deal possible. I understand and can assist with:
the buyer's perspective
the builder's perspective
guiding you to lot locations, homes under construction, and listed for sale
information concerning builders and contact persons
broker services most important to builders
important elements of new home contracts
construction financing options and considerations
residential construction including materials, methods, terminology and the building process
architectural design, blueprint reading, understanding site design and topography
new home design process and organizing buyer's design information

Building a home is very different than buying an existing home and you need representation. Builder's sales representatives are typically not licensed as real estate agents in the State of Texas. While they may be familiar with the homes that they sell and the builder's sales contract, they may not be familiar with the closing process or the importance of paying your mortgage, property taxes and/or your homeowners dues in a timely manner, each of which will result in liens and foreclosure if left unpaid. Furthermore, you might not be getting all that you're entitled to have or could have . . . both in quality, value, and potential rebates and/or incentives.
WHAT WILL IT COST YOU TO HAVE REPRESENTION?
Nothing! The builder pays the Buyer's Agent's commission for selling their homes. So before you venture out to look at model homes, contact me for representation and have piece of mind knowing your interests are protected!
P.S. Need a Lender? Check out my preferred lenders. They are the best in the business and will work hard for you!
"I love Monica!!! She sold my house when nobody else could. She knows the market!! Thanks again for the wonderful job on selling My old home and finding my new dream home!"
– Shilon Demers
"Monica came at a point in our life when we needed her the most. We needed her to sell our old home so we could move Into our new home. She did!!!!!! One month!!!! she is very knowledgeable in here field. We switched realtors during this process and we were glad we got Monica. She is on top of everything. She gives back to 1st responders. We just want to say thank you so much."
– Daniel and Wynisha Alcorn