Virtual Selling
April 28, 2020
NEED TO SELL VIRTUALLY? If you need to sell remotely and/or for safely (due to illness or outbreak for example) the Monica Foster Team has solutions for you.  Even if you don't need to sell virtually you can still take advantage of these options! Also be sure to check out our standard Selling Services, Luxury Home Marketing and why you should Select us as Your Agent to list your home.
We provide 3-D self-guided tours of your home that potential buyers can walk through on their own like an Open House 24/7. Buyers use the arrow keys, mouse, or touch to navigate the home themselves looking at every part of the home- just like you would if you were actually there. They can walk around, view highlight images (and go to that room simply by selecting it), view the home from the dollhouse perspective and choose any room, or view the floorplan and pick a room from there (On Zillow they require the use of their own less capable 3-D tours which we also do).  See the short video below for an example or check out the 3-D Virtual Open House section of our site to experience it for yourself.
Should the need arise we can also do Virtual Open Houses using current conferencing technology such as ZOOM and others which is current supported by our HAR MLS and Realtor.com.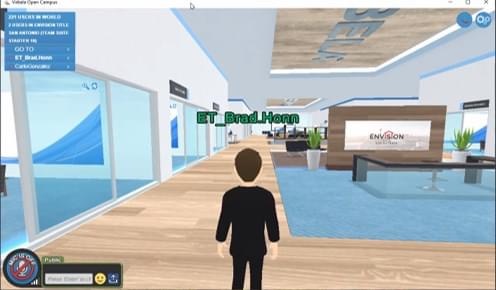 We close our sellers at Envision Title which supports closings in the VirBela Open Campus/Envision Title private team suite.  You first create your avatar and then sit at the virtual closing table with our team member and closer.  Your closing functions just like a virtual consultation with our team in eXp World.  If your transactions allows for e-closings you can sign from the comfort of your home or you can sign via mailout but still ask questions at the closing table.  Envision Title also offers ZOOM closings as well.